Shame On 'Campus Church' For Mistreating People
(Shame on Pastor Jeff Redlin of Campus Church at Pensacola Christian College!)
By David J. Stewart | March 2022 | Right Doctrine Matters
Romans 16:17-18, "Now I beseech you, brethren, mark them which cause divisions and offences contrary to the doctrine which ye have learned; and avoid them. For they that are such serve not our Lord Jesus Christ, but their own belly; and by good words and fair speeches deceive the hearts of the simple."
God knows that I do not go looking for disagreements with people, truly. But I know when someone is being abusive toward me. In the summer of 2021 I relocated from the island of Guam to Pensacola, Florida. I wasn't sure where to move, after several years of trying to pick a place to move, so for the time being I chose Pensacola. It wasn't a bad choice. The weather is mild here. The people are friendly. Pensacola Beach is wonderful, but doesn't compare in beauty to Ypao Beach on Guam with its gorgeous turquoise waters within the beautiful reef. But since 2013 Ypao isn't near as pretty as it used to be, since the cut down over 3 dozen coconut palm trees, due to being infected and killed by the dreaded Rhinoceros Beetle.

When I moved to Pensacola on July 2nd, 2021, I decided to attend the Campus Church at Pensacola Christian College on my first Sunday. Literally, I was sleeping in my car in Walmart's parking lot, because the hotel at which I had made reservations a month in advance, screwed me at the last minute, bumping me to give my reservation to someone else for much more money, since it was the 4th of July weekend. SHAME on the Woodspring Suites Hotel in Pensacola!!! God will avenge me of their evil.

So I attended Campus Church on my first Sunday. A stranger came up to me as I wandered on the grass. He led me over to a picnic table to a group of church members. I didn't find out until about 20 minutes later that this was the church's senior pastor. When I first met Jeff Redlin I told him my name, and that I just just moved from Guam 48 hours ago. He couldn't believe it! Then I told him that I was homeless in Walmart's parking lot, just making conversation with him. To my dismay, I saw a startled look on his face, and then he got away from me as quickly as he could. I was saddened to realize that because I had told him I was sleeping in Walmart's parking lot, Pastor Redlin was afraid that I might ask for his help and he left as fast as he could. That was my first negative impression of Pastor Jeff Redlin. He doesn't care about all people, only his friends and neighbours. That man ought not be a pastor!

I didn't let that deter me from my new church family. I came to Campus Church with a big heart, a spirit of love, and a desire to be a part of their big church family. I told these things to Pastor Redlin. I explained kindly that I wanted to love everyone unconditionally, and hopefully be loved back. I confided in him that I am a Hyles-Anderson College graduate, and that I hoped to find a wife at Campus Church. I explained that my wife divorced me 15 years earlier in 2006. I couldn't have been more loving and open-hearted with Jeff Redlin, appealing to his pastor's heart for understanding and love.

To my dismay, Redlin ignored me for the next 10 days. I wondered what was wrong. I didn't want to jump to any conclusions, so I kindly approached him and his wife after the Sunday morning church service. I simply wanted to know why he hadn't replied to my emails. To my sadness and horror, he berated me for being divorced, saying in front of his lovely wife that even if I found a wife he would never remarry me. I was numb in my soul. I emailed him when I got home, because I didn't want to disrespect him in front of his wife, as he did me in front of his wife. I had emailed Pastor Redlin in confidentiality and he never should have said those things in front of his wife, which was none of her business.

Jeff Redlin again rebuked me, scolding me for coming to church to find a wife. I couldn't believe how immature and unjust this man was being, foolishly jumping to conclusions and falsely accusing me. I never once told Pastor Redlin that the only reason I came to church was to find a wife. I simply said that I had hoped to find a wife at Campus Church. it blows my mind that any pastor would berate and scold a divorced man, for hoping to find a woman to marry in a church. I mean, what better place is there for a child of God to find a wife, than a Bible-believing church? I still can't believe how incompetent Jeff Redlin is as a pastor. What he said to me was very inappropriate, low-class and unprofessional, not to mention unchristian.

Pastor Redlin's unkind and abusive words cut to my heart! Could he not have simply assured me that God still loves me? Why didn't he once offer to pray for me? Not once, at any time, during the entire summer of 2021 that I attended Campus Church, did Pastor Redlin express any sympathy or empathy for my suffering, loss and pain as a hurting divorced man. Tragically, single divorced people are treated like garbage at Pensacola Christian College. One of their PCC staff members confided in me that for that very reason, many divorced people either leave or completely avoid coming to Campus Church and PCC. That is so sad and wrong on many levels.

"No one is any better a Christian, than they are kind."
—Dr. David Gibbs Jr. (a quote from the beautiful sermon "HIS VOICE" about loving the unloving with God's love!)

"The pastors have destroyed the churches, and they've been trained by people that have never built churches, and they have no compassion." —Pastor Jack Hyles, "Many Pastors Have Destroyed My Vineyard"
Pastor Redlin should have heartily welcomed me as a new member of Campus Church, but he took him two weeks to decide if he wanted me in his church or not. That is NOT Bible Christianity! Jeff Redlin is not God but he sure acts like it, deciding who is relevant and who isn't. People matter! All people matter! We've heard the popular cliche since 2020 that "Black Lives Matter," but dear reader—with God "All Lives Matter"!!! Jeff Redlin is such a disappointment to me as a believer and a fellow preacher. He had no right to belittle, discourage and discourage me from finding a wife. I am not an 18 year old PCC student, I am a 54 year old man. Mr. Redlin is a foolish man to make enemies. I was kind and respectful toward him, but he pissed on me as a human being. Psalms 109:4-5, "For my love they are my adversaries: but I give myself unto prayer. And they have rewarded me evil for good, and hatred for my love." I've been praying for Pastor Redlin, that God will break his stubborn rod of pride and open his eyes.
Pastor Jack Hyles is so right, today's pastors have been trained by academics like Jeff Redlin, people who have never built churches, and they have no compassion for hurting sinners. I heard Dr. Hyles say in a sermon that all across America businessmen are destroying churches. That is because businessmen think in terms of money. A preacher thinks in terms of THE TRUTH, as I do. And sadly, academics only think if terms of education, woefully lacking God's love for people. God never intended for Christianity to deteriorate into a mere money-making business, or a school of higher learning like Pensacola Christian College today. In all the time that I attended Campus Church in the summer of 2021, I never heard sin preached against. I never heard any pastor tell me that God loves me. I never heard any pastor pray for me. Remember, I asked Pastor Redlin for help. I never heard anything about the power of the Holy Spirit. Pensacola Christian College is spiritually dead today! That is because their leaders don't walk with God. Consequently, they don't really care about suffering sinful people. They have a little spoiled click of snobs at PCC. It's Us Four And No More at PCC. They sure didn't make me feel welcomed.
My former wife chose to divorce me in 2006 against my will. I have that in writing, with her signature on the legal paperwork. That was her doing, not mine. I cried and begged her not to divorce me, but she didn't care and refused to reconcile. That is on her! God is my witness. I haven't dated anyone for the past 16 years, not because I didn't want to, but because I haven't met anyone. I thought I had found a woman to marry at the Harvest Baptist Church on Guam in 2014 to 2017, but that ungodly devil Pastor Marty Herron stabbed me in the back, ruining my life because I TOLD THE TRUTH. I told THE TRUTH that Lordship Salvation is a perversion of God's grace, and cannot produce the new birth by faith alone. I told THE TRUTH that the modern Bibles are Devil's Bibles, corrupted as can be. I told THE TRUTH that Martin Luther (1483-1546) was not a born-again man, because he preached the lie of Baptismal Regeneration his entire life, which can easily be verified online (just read his catechisms written in 1529, 12 years after Luther allegedly was saved by faith alone in 1517).
I fully agree with the following condemnation of 'Lordship Salvation' and those ungodly infidel pastors today (e.g., John MacArthur and Bob Jones University) who preach this damnable message:
"And yet it [Lordship Salvation] looks like it's so close, and yet it's so disastrous, because the consequences is Hell. And they use a lot of the same words, terminology, but it's just so wrong. We have to be careful of the things that we say. The words that we say. The message that we tell people. Because you see, we will have to answer to the Lord for the Gospel we preach. It's not left up to you and I to change it. To manipulate it. And just because we see the wickedness in so many Christian's lives, you can't change the Gospel message to solve the immaturity in Christians. You have to hit them with the doctrines of other things that pertain to the child of God. But salvation is totally separate." SOURCE: Pastor Ralph Yankee Arnold, "Lordship Salvation—Caught Between Grace And Works"
Kindly said, Jeff Redlin really needs to go back to God and learn how to treat people. Pastor Redlin is the epitome of everything that is wrong with pastors today. He is cold-hearted, inconsiderate, insulting and rude. I am still in disbelief how this horrible man ever got hired to lead Campus Church. Search the internet for "Samantha Field raped at Pensacola Christian College" and you'll be sickened as I was. Since Jeff Redlin doesn't care about human beings, I decided to help Samantha expose PCC, and rightly so. One thing that Pastor Jeff Redlin is beyond is apologizing, because he is too pompous and arrogant, filled with sinful hubris. When Samantha reported being raped to PCC staff, they sinfully told her to "repent." Who does that? Who would heartlessly tell a young woman who is the victim of rape, at Pensacola Christian College, that she needs to repent and let the matter go? Only a monster would tell someone such a wicked thing.
That definitely sounds like Jeff Redlin. SHAME on Mr. Redlin for scolding me for seeking to find a wife at Campus Church! Who the hell made him God? Where else would a believer find a wife? What right does Redlin have to scold a 54 year old man, whom he had just met a couple weeks earlier? I had never told him that the only reason I came to church was to find a wife. That ungodly reprobate assumed that, because he is an unjust man. I had just flown 9,000 miles from Guam and chose to attend Campus Church. I was sleeping in my car in Walmart's parking lot. Pastor Redlin showed ZERO understand, compassion or concern. Just because he invites a bunch of newcomers to church to his home, doesn't mean that he cares. Jeff never invited me!!! Besides, inviting people into your home is hospitality, not God's love. Pastor Redlin mistreated me horribly as a human being, just like PCC mistreated Samantha Field, which is why we are so upset about it. People matter dammit! Sadly, it is because Campus Church and PCC are so big and successful in the world that they disregard the 1% who fall by the wayside, as if they were roadkill. Excuses, excuses, we hear them every day at PCC!
You'd think that if Jeff Redlin used the brain that God gave him, he'd properly treat newcomers, not show favoritism as he did. Redlin is a sinful respecter of persons!!! You'd think that Mr. Redlin as PCC's senior pastor would have shown me respect instead of contempt. I am writing these articles against PCC because of Jeff Redlin, and plan to write many more to expose his sickening kind of self-righteous Pharisaism that permeates the shameful PCC camp. Jeff Redlin is a very dumb pastor! I have the emails to prove it! He berated me right in front of his wife on a Sunday morning, telling me that he would never perform the wedding if I found a woman to marry. What a total assh*le! Who does that, really? How did that nice woman end up with a zero-class ass*ole like that? Jeff Redlin is pathetic!
When I told Pastor Redlin that I was divorced, he couldn't have cared less. When I sincerely mentioned hoping to find a wife in time, he berated and condemned me for it. When I asked him if I am welcomed at Campus Church as a divorced man, he avoided the question for the next two weeks. And then right in front of his wife, he said if I did find a woman to marry he wouldn't perform the wedding. I never asked him to perform any wedding! What the hell is wrong with Pastor Redlin? We're talking about a pastor that I had only known for a couple weeks! SHAME on Jeff Redlin! PCC needs to fire that circus clown and bring in someone who genuinely walks with God, loves people unconditionally and genuinely cares about broken and suffering people, not just superficially like Jeff Redlin does. If he truly cared about people and loved them, Pastor Redlin would have embraced me with God's compassion and comforted my grieving soul as a hurting divorced man. But that ungodly scoundrel didn't care! Jeff Redlin is a wicked person!
Another idiot is Pastor Sean Quinlan. Mr. Quinlan is a fool and I told him so on Guam at the Lighthouse Baptist Church, to which PCC donated $25,000 cash in 2018. I called him a fool because he berated me for my zeal over God's Word. I mentioned in a private conversation to another man at church, that Bob Jones University is helping the Devil today by selling and promoting the Devil's modern corrupt Bible revisions. Quinlan admitted to eavesdropping my conversations for the past several months, and then he went ballistic and got angry. He was upset because I called out the Bob Jones cult by name, which I have ever Biblical right to do. You see, PCC sinfully bids Godspeed to the Calvinist Bob Jones University camp (which I didn't know at the time). I was horrified! Pastor Quinlan actually called the infidel Harvest Baptist Church on Guam: "Our sister church." I was numb! In response, I truthfully told Pastor Quinlan that he is a fool and needs to get right with God for bidding Godspeed to infidel Calvinists!
Since Quinlan foolishly rebuked me publicly at the entrance of the church, I had to rebuke him back in public in front of his own people, because it was a matter of THE TRUTH. I shouted as I was leaving: "SHAME ON YOU!!!" And I'd gladly do it again 10,000 times!!! I wasn't about to let that fool defend Lordship Salvation, Devil's Bibles, Martin Luther's Baptismal Regeneration and the God damned Bob Jones University crowd! No pastor has a right to hide behind his clergy position while defending gross Satanic error (Titus 1:10-14; Jude 1:3; Ephesians 5:11). Pastor Quinlan falsely accused me of being "obsessed" over the Holy Bible. Yes, you better believe I am "OBSESSED" over the Bible, and so too should you be friend. Psalms 119:139-140, "My zeal hath consumed me, because mine enemies have forgotten thy words. Thy word is very pure: therefore thy servant loveth it." And then when I moved 9,000 miles away from Guam to Pensacola and attend Campus Church, Pastor Jeff Redlin falsely accuses me of "finding weaknesses" in the God damned Bob Jones crowd who send people to Hell with their Lordship Salvation trash! GET RIGHT WITH GOD PENSACOLA CHRISTIAN COLLEGE!!!!!!! Stop corrupting Guam and other countries with your perversion of God's grace!
Something is very wrong with a Baptist pastor who tries to quench another believer's zeal over the truth of God's Word!!! Shortly after that unpleasant encounter, Quinlan resigned his church and quit, going back to work on staff at PCC in Florida. Mr. Quinlan returned to the pool of vomit from which he sadly came at PCC. Birds of a feather flock together. I wouldn't give you a dime for Sean Quinlan, Jeff Redlin and Timothy Zacharias. These men are all corrupt on Bible repentance, adding works to faith by errantly preaching that repentance must produce a change of behavior. I will get to this heresy at PCC more in a moment, because RIGHT DOCTRINE MATTERS!!!
I love this quote by one of my favorite free Gospel preachers, Pastor Ralph Yankee Arnold:
"If you have to look at your life to prove that you are saved, it proves that you're not!" —Pastor Ralph Yankee Arnold; an excellent quote from the awesome sermon titled, "Why Lordship Salvation is WRONG! | YouTube Video | MP3"
Ask Samantha Field what she humbly thinks about PCC. I guarantee you she would put them all in prison if she could, and so would I. It is bad enough that she got raped at PCC, but then the college raped her twice! PCC are arrogant and haughty toward hurting people who they don't accept into their religious cult. God's curse is upon any institution that bids Godspeed to the damned Calvinist Bob Jones University crowd, which PCC does.
They don't know the meaning of "love" at PCC. They are a bunch of cold-hearted academics. Jeff Redlin is very shallow. Sadly, the thousands of PCC students won't rise spiritually above the shallowness, arrogance and superficial phoniness of jerks like Jeff Redlin and his butt-buddy assistant clown, Pastor Timothy Zacharias. These men are incompetent to pastor any church. Unfortunately, at Campus Church they are leading thousands of students into a lukewarm type of indifferent, pompous, stiffnecked, if you're divorce and single but hope to remarry you're crap, false religion.
The following is a literal screenshot from a YouTube sermon at Campus Church on July 14, 2021. This is damnable heresy! Bible repentance means: "A change of mind." Repentance does NOT mean: "A change of mind resulting in change of behavior." That is a counterfeit gospel! If our behavior must change to prove that we are saved, then that is keeping the law to prove that we are saved. That is a false gospel. What is a wrong with Jeff Redlin and Tim Zacharias? I'll tell you, they have been adversely affected by the Satanic Bob Jones crowd. Galatians 4:16-17, "Am I therefore become your enemy, because I tell you the truth? They zealously affect you, but not well; yea, they would exclude you, that ye might affect them."
SHAME on Pastor Jeff Redlin! SHAME on Redlin for making hurting and lonely divorced people feel like they don't belong in Campus Church. SHAME on Redlin for not offering to pray with me! SHAME on him for not caring. SHAME on Jeff Redlin for making lame excuses, instead of loving a suffering person who needed and asked for his help. Sadly, Jeff Redlin has the demeanor of a 12 year old brat. He is childish, full of excuses and lacks genuine love for others. That is not a good pastor! Redlin may have the majority fooled by his fake Christianity, but you can tell a man's character by the way he treats those who can do nothing for him.
You can tell a man's character by how he treats the least among us. I came to Campus Church empty-handed, having lost my wife, my home, my possessions, my retirement and my will to live at times. Yet, Redlin has a wife, so what does he care, right? He has a home, so screw everybody else, right? That heartless monster kicked me in the head and left me for dead. Where is the love of God? Pastor Redlin didn't care when I was sleeping in my car and I told him so. He just cruelly walked away because he is a selfish coward. l have no respect for Jeff Redlin, zero! That pathetic weasel is a disgrace to the cause of Jesus Christ!!! I pray that God teaches him the hard lessons that he needs to learn. I am not impressed with the chicken-crap pastors I have met from PCC; namely, Sean Quinlan, Jeff Redlin and Tim Zacharias. These three clowns ought not be allowed behind ANY church pulpit. But this stupid generation is getting the lowlife incompetent pastors that they deserve, fools in the pulpit.
Here is a screenshot from their Foundation's Class at Campus Church at Pensacola Christian College...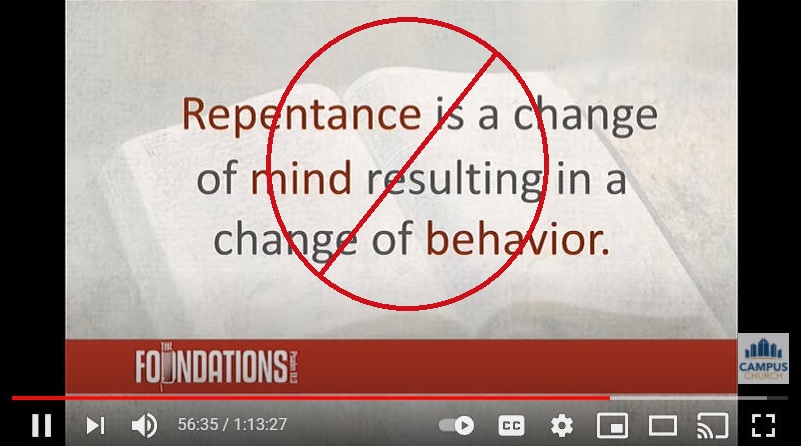 A Deadly False Gospel is Being Preached at Pensacola Christian College (PCC)!
If I had my way, Jeff Redlin would be behind bars where he belongs, for abusing suffering people. I pray that God makes him suffer, so he will be humbled. What a selfish prick! The Lord hates pride and arrogance, and Jeff Redlin epitomizes sinful pride and arrogance. That bastard treated me like garbage, with no remorse whatsoever. Once he saw my ministry websites, he had a hard-on for me. Some pastor, huh? That is the devil in Pastor Redlin! There is nothing I can do buy expose him for the evil person he is, and hope that you dear reader have enough sense to avoid PCC. They woefully lack God's love for hurting divorced people. That is not the way our dear Savior treated people!!!

It is the indwelling Holy Spirit Who changes our life, sanctifying us with the Word of God (John 17:17), IF we yield to Him (Romans 12:1). Not all believers yield to God, and so their behavior DOESN'T change. Many Christians are in prison today! They're behavior didn't change! But according to Jeff Redlin and Tim Zacharias they weren't really saved. Heretics! Redlin and Zacharias are incompetent!!!

Today's churches are pathetic! The main reason why is because today's Bible colleges are pathetic, and they train the pastors. We've got enough incompetent bozo clowns like Sean Quinlan, Marty Herron, Joe Hansen, Jared Baldwin, Steve Pettit, Gary Walton, Jeff Redlin and Tim Zacharias. These rotten men laugh at my ministry. They think it's a big joke that I contend for the faith. Jeff Redlin is in bed spiritually with the Bob Jones University (BJU) crowd, making him partaker of their evil deeds. Look at this Satanic plan of damnation being preached at BJU today!!!

I am so disgusted that I ever set foot in Campus Church! That was the summer of 2021. There are some nice people there at PCC, like Judy who is confined to her wheelchair from a tragic car accident in 1992. I like Judy. Her Mom (Pat) and Dad (Jerry) are great people. I miss Campus Church, but Jeff Redlin is an abusive jerk and needs to seriously learn how to treat people MUCH better. He totally dropped the ball with me, making me feel like garbage, by mistreating me because someone slandered me to him and the fool believed every word of it. That is an ungodly pastor! A wise person doesn't believe anything that they hear, and only half of what they see! A righteous person always gives others the benefit of the doubt. Pastor Redlin didn't do that with me, he ran with the slander. SHAME on Pastor Redlin!!! SHAME!!!

So, as long as that irresponsible and hateful fool Jeff Redlin is in charge at Campus Church, I won't attend their 3-ring clown circus. And I will preach against PCC until Pastor Redlin is gone! I don't blame Samantha Field for being pissed off. I am too! They need to learn how to love people at PCC. But that will never happen as long as they hire unloving fools like Jeff Redlin, who lacks God's unconditional love for sinners like me. When that butthole Redlin is gone, someone let me know and I'll come back to Campus Church and make peace with PCC, and remove my criticisms online.

God knows in my heart, even still now, that I would like for nothing more than me and Pastor Redlin become friends. I would rather promote Pensacola Christian College and their Campus Church, as a good friend, than to expose them as God's enemy. No one is God's friend who bids Godspeed to a Calvinist institution such as Bob Jones University. Dear reader, THIS IS NOT THE GOSPEL OF FREE GRACE that Dr. Steve Pettit (president of BJU since 2014 preaches). I have every Biblical right to "REBUKE THEM SHARPLY" who preach another gospel (Titus 1:10-14). God curses them (Galatians 1:6-9). Somebody has got to care! Somebody has got to tell THE TRUTH!!!

Perhaps you'd like to let Pastor Jeff Redlin know what you think, and send him this truthful article:
jRedlin@campuschurch.com | info@campuschurch.com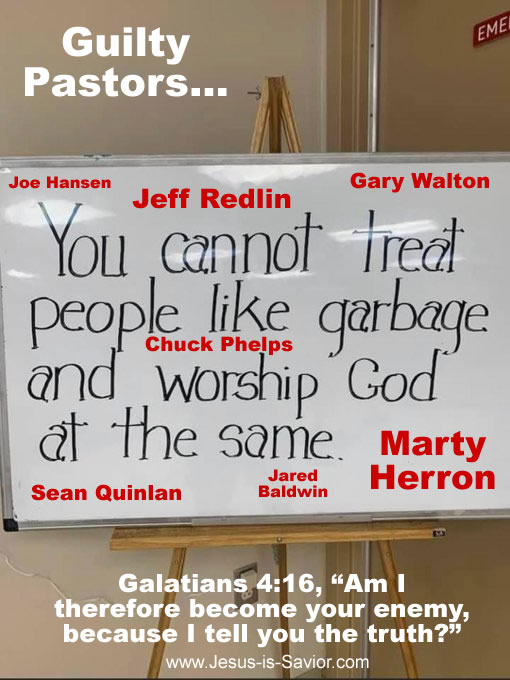 2nd John 1:11, "For he that biddeth him God speed is partaker of his evil deeds."
The Uncaring Cult At Pensacola Christian College
Shame On Campus Church For Mistreating People
I Was Told I Needed To "Repent" For Being
Raped At Pensacola Christian College
---