The government is going to keep breaking the system until they can say,
"We have to take over the system."
War is the health of the State! See, PAWNS IN THE GAME by William Guy Carr (1895-1959)
---
Power Of Prophecy!
(Can you handle the truth?)
"We've got a pack of Gay animals running America!"
(MP3 by Pastor Texe Marrs; Homosexual Texas Senator Ted Cruz exposed!)
Note on Texas Senator Ted Cruz: Dr. Texe Marrs exposes shocking information about rising political celebrity Ted Cruz and his Wall Street wife. Ted Cruz is a rotten, ambitious traitor to the United States! Ted Cruz—Deceiver of Zion, Father of North American Union, Conspirator with Goldman Sachs Bank, Traitor to America, and Puppet for the Jewish New World Order. Heidi Nelson Cruz is a member of The Council On Foreign Relations (CFR). Even more disgusting is that Ted Cruz (a Hispanic Cuban) attended Jerry Falwell's Liberty University and is a member of the Southern Baptist Convention. Cruz is the ultimate deceiver!!! To learn the shocking facts, listen to Pastor Texe Marrs in the preceding link and visit his website at Power Of Prophecy.
---
"World events do not occur by accident. They are made to happen, whether it is to do with national issues or commerce; and most of them are staged and managed by those who hold the purse strings." ―SOURCE: Denis Healey, British Defence Secretary
The Capitalist Conspiracy: An Inside View of International Banking
(by Professor G. Edward Griffin)
I NEVER KNEW YOU: THE HORROR OF THE GREAT WHITE
THRONE OF JUDGMENT AND HOW YOU CAN AVOID IT! (by Michael P. Bowen)
(Luke 13:23-24, "Then said one unto him, Lord, are there few that be saved? And he said unto them,
Strive to enter in at the strait gate: for many, I say unto you, will seek to enter in, and shall not be able.")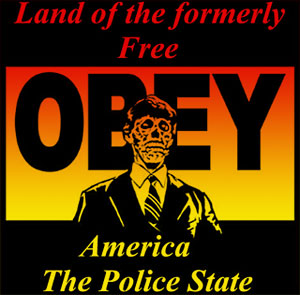 This Is A Criminal Takeover . . .
In April 2014 The White House counter-terror chief publicly stated that "confrontation" children could be terrorists! Kids are being suspended for playing with Nerf guns in their yard . . .
"Ladies and gentleman, what is really behind all of this? ... Kids get suspended if their neighbours see them playing with Nerf guns in their backyard. ... You say, "It makes no sense." You say, "It's crazy! You say, "It's nuts to claim that little kids are basically some type of criminal for having guns, toy guns!" ... This is about making everyone criminal, but the people running the system. This is about the rollout of a total authoritarian system—a total and complete nanny state, ladies and gentlemen. And that's what we're breaking down every day here at Infowars.com! What we're seeing here is the branding of any type of even speech against tyranny as terrorism! The free-speech zones, the NSA spying, all of it is part of this system ...

You gotta understand, this is social engineering! This is a plan they're rolling out. This is why if a kid makes the image of their finger as a gun (bang! bang!) in school they get arrested. This is why if you ask a cop why you got pulled over you get tasered, or taken to jail. It's a paramilitary takeover. Ok, this is literal mind-control where they're expanding terrorism to everyone.

First they roll it out to fight Al Qaeda, then they say forget about Al Qaeda, it's for you and your family. And now they're going to continue to grab land under agenda 21, they're going to continue to raise the taxes, they're going to continue to harass everybody, until people start resisting, then they're going to call it 'terrorism,' then they're going to stage terror attacks, blame it on their political opposition, and bring in Martial Law! This is their plan! This is what I keep warning you about!

Please, for military, police and others, understand what's happening. Understand that America is being shutdown, deindustrialized and the people are in a depression. And this is designed to create tension that the globalists can then basically use to bring in their next level of control."

SOURCE: The Alex Jones Show, PrisonPlanet TV, a quote by Alex Jones, April 18, 2014.